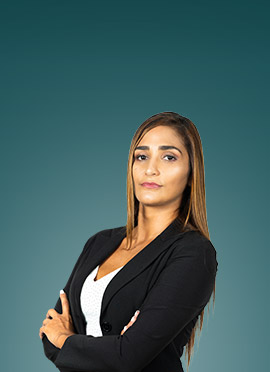 Daniela Madriz Quesada
In charge of the Segnini Consultores office in Puerto Viejo of Limón.
Lawyer and Criminologist with more than 10 years of training and professional practice within the field of Costa Rican Public Law. Extensive experience in legal advice on matters related to Public Administration; Electoral Law and Labor Law. Specialization in administrative contracting within the Costa Rican regulatory framework and under the policies of the Inter-American Development Bank, with an emphasis on the development of transportation infrastructure.
Practice Areas
Civil law
Administrative law
Labor Law
Criminology
Education and Admmissions
University of San José (studying).
Specialty in Notarial and Registry Law (2020)
Technological Institute of Costa Rica.
Specialty in Administrative Contracting (2018)
University of Salamanca, Spain.
Diploma on corruption and sanctioning regime of the Public Treasury (2016)
Costa Rica Bar Association
Collegiate Lawyer Card No. 25646 (2015)
University of Sciences and Art.
Law Degree (2015)
Free University of Costa Rica.
Bachelor of Criminology (2010)